Located at 221 4th Avenue NE
Pool 24-hour schedule line: (403) 443-2111
Office: (403) 443-2166
Fax: (403) 443-2616
Email: Email Contact Form
Aquatic Centre Program Guidelines and Descriptions
Check for schedule changes, or upcoming events below.
Register for Lessons Here **if class is full please register for waitlists as more classes may be opened.
Winter Lesson Schedule (Winter session registration opens January 15, 2024 at 8am)
Rates & Fees
Click HERE for rates.
Printable Schedule and Lessons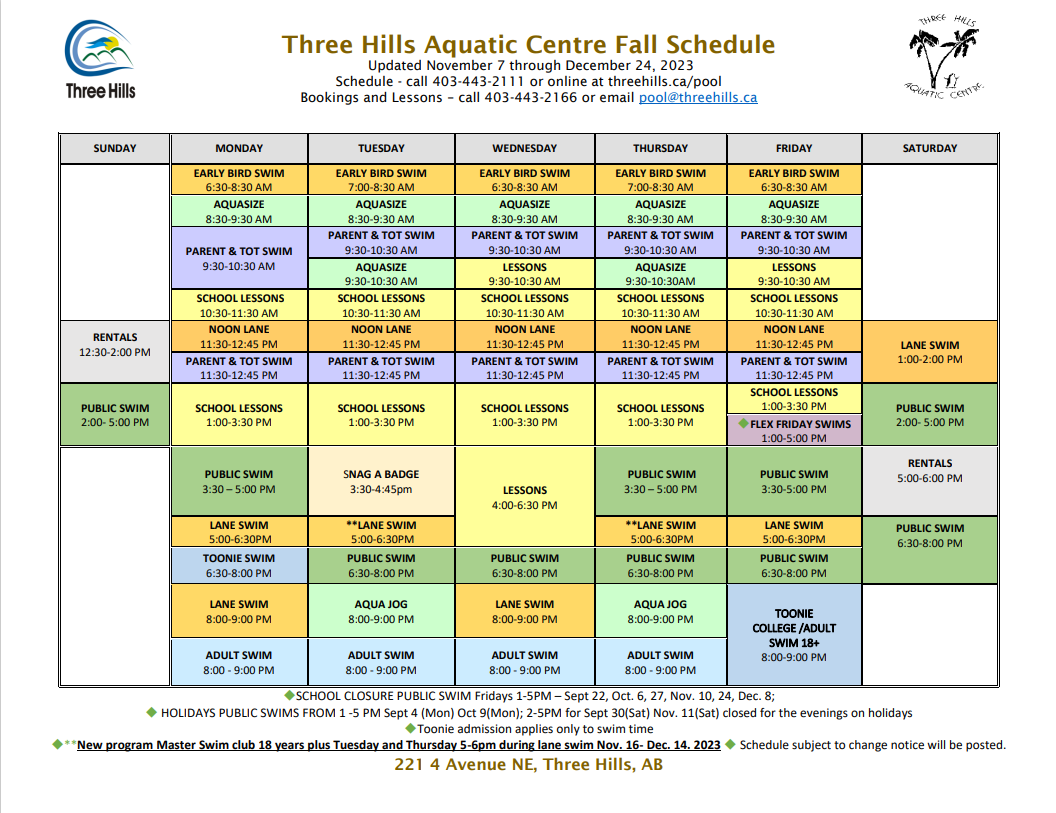 Upcoming Pool Schedule Changes or Events
Next Flex Day public swims will run December 8, 2023 from 1-5pm.
Change to schedule for Saturday December 16. Due to a staff function the Aquatic Centre will closing at 5pm. There will be no public swim from 6:30-8:00pm this Saturday only.
Additional public swim times have been added on December 19 & 20 from 3:30-5:00pm.
The Aquatic Centre Annual Maintenance will run from January 8-19, 2024 and will reopen on January 20, 2024 at 1pm.
Aquatic Centre Fall Schedule - November 7 - December 24, 2023
Aquatic Centre Holiday Schedule - December 24, 2023 - January 7, 2024
Aquatic Centre Winter Schedule - January 20 - April 28, 2024